The Dreaded Double Chin: Causes & Solutions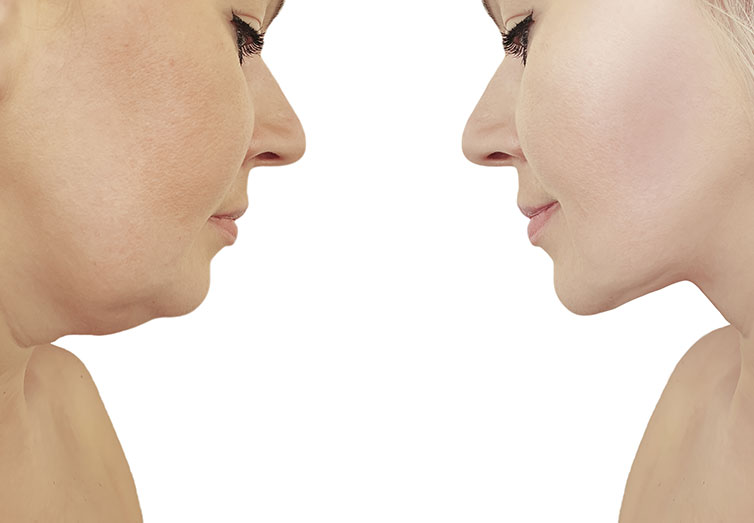 It's perhaps one of the most sought-after physical attributes in the world: a smooth, clearly-defined jawline. From the chiseled, manly look to the more feminine oval curve, both genders have tried to cultivate this look for hundreds of years. Unfortunately, the truth is that the vast majority of us have soft jawlines.
While these usually look amazing for the majority of our lives, they can start to look rounder or fuller as we age or gain weight. If left unaddressed for long enough, this can progress into the dreaded "double chin."
While it might seem like an impossible cosmetic problem, having a double chin is a problem you can actually solve (with the right approach). In this article, we'll discuss both the causes and solutions of the double chin dilemma. If you're located in The Woodlands, Texas or any of the surrounding Houston suburbs, we'll also tell you about a revolutionary new treatment you can use to change your face for the better today!
Understanding the Double Chin
It's always nice when you can point to one individual thing to avoid or address in order to avoid an unwanted cosmetic issue. However, as most of you know, this is rarely the case. Indeed, there are several reasons why you might develop a double chin, and they can all work together to compound the problem. The main reasons include:
Age – Aging is one of the main culprits behind our skin's loss of elasticity. This causes gravity to affect our mouth, chin, and neck more noticeably, leading to sagging.
Weight Gain – As we gain and lose weight over the years, it causes our skin to expand and contract. This too can loosen the jawline and lead to an unattractive double chin.
Genetics – If the "double chin" gene runs in your family, you could be more susceptible to packing fat in that area.
The point is: there's no single reason behind why you might end up favoring turtlenecks instead of V-necks. In many cases, it's a combination of many factors that are keeping you from the jawline of your dreams.
Natural Solutions to Cure the Double Chin
Did you know that you can exercise almost any part of your body? It's true, and your face is no exception. In fact, many people have seen pretty impressive results by doing what's often referred to as "face yoga." The goal of these exercises is to help firm and tighten the skin around the jawline, chin, and upper neck.
Some other methods that may help you deal with your double chin include:
Dietary Changes – Incorporating more veggies and healthy fruits into your diet can be a big step towards banishing that bloat. You should also try to avoid processed foods and sugars at all costs and eat more lean meats and healthy fats.
Exercise More Frequently – Just 30 to 45 minutes of moderate exercise per day is usually enough to start seeing some healthy changes in your body composition. Strength training is also a good idea, as it firms up muscles all over your body and quickens the breakdown of fat.
Want a Faster, More Permanent Solution?
For those women who want to take a more proactive approach to their double chin, there's Kybella. This is the first and only non-surgical, FDA-approved treatment designed to contour and shape the jawline by dissolving excess fat. Kybella uses a special composition of deoxycholic acid, which occurs naturally in all of our bodies, to help break down dietary fat and boost its absorption into the body. When injected into the subdermal layers, fat cells are literally melted away!
At Avante MediSpa in The Woodlands, our team is trained in providing a wide array of beauty treatments – including Kybella. Of course, this is just one of the many treatments our state-of-the-art spa has at its disposal. We're also proud to provide Botox, Dysport, Spray Tanning, Body Sculpting, and Laser Hair Removal. So if you're located in Greater Houston, The Woodlands, Conroe, Spring, or beyond, you're already one step closer to the look you want.