Are you looking for the best wrinkle eraser in Houston and The Woodlands? Then you don't have to look anymore. FDA approved Botox is a cosmetic injectable that is minimally invasive and softens wrinkles and lines that happen when you age. That is why it often gets called a wrinkle relaxer. These injections will not dramatically change the appearance of your face.
Instead, you will get results that are natural and striking after a few days of your treatment at Avante. The muscles in your face will get relaxed so that you can smile, look surprised or frown without creases or wrinkles. It also helps to prevent wrinkles and lines from becoming deeper over time.
How Botox Works
Botox is a clear liquid that will get injected using a fine needle into the area. It uses a botox to paralyze the muscles in your face temporarily. That stops nerve signals in the muscles from contracting, which causes wrinkles and lines to soften and relax.
Once the muscles are relaxed, your skin will be smoother, creating a much more relaxed appearance. Botox is FDA approve and has been in use for more than 20 years. It is an effective and safe treatment.
What Botox Corrects
Botox quickly softens facial lines and wrinkles between your eyebrows, eye area, forehead, and smile lines. This treatment is best for:
Crows feet
Lifting the corners of the mouth
Eyebrow reshaping or brow lift
Vertical lines between your brows
Forehead frown lines and rows
Diminishing neck bands
Vertical lip lines and smile lines around the mouth
Bunny lines
Improve facial symmetry
Correcting a gummy smile
Reducing jowls
Hyperhidrosis
Preventing wrinkle deepening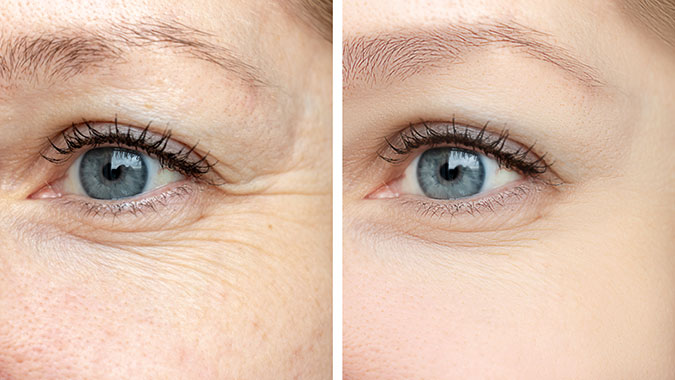 Schedule Your Botox Appointment Today!
Book online to schedule your Botox in Houston or The Woodlands at Avante Laser and Medispa. Our medical team develops a custom treatment plan for you after assessing your desired results, concerns, and current health.
How Much Will Botox Cost?
The cost of Botox injection depends on the size of your facial muscles, the skill and experience of the syringe, the number of treatment areas, the number of product units, your residence, and the desired result. Generally, men need more units than women because their facial muscles are larger.
FAQs for Botox
All Botox, Juvederm/Restylane,and Dysport filler injections at Avanteare exclusively performed by our team of instructing doctors, nurse practitioners (NP), and physician assistants (PA) are senior medical clinicians with a master's degree.
A fast and minimally invasive intermediate medical syringe (nurse or doctor's assistant) will use a small needle to inject Botox directly into the muscle that needs to be relaxed. Any discomfort at the injection site is minimal. After the botox injection, you may feel a slight residual sting immediately. A small bump may also appear where the injection occurs, but it will disappear soon.
After five minutes, your face will look almost the same as when you entered Avante, but if your skin is sensitive, it will be red. Usually, you can return to work or normal activities immediately after treatment. In the range of 1-10, most guests rate it as 1-2.
You must remember Botox will not take effect immediately. After the Botox injection, it takes up to 14 days to completely block the nerves that contract the muscles and relax them. In most cases, you should see subtle differences in the treated area's appearance within the first week.
If this is your first treatment, you may feel "heavy" or tight in the treatment area. Because your muscles get temporarily paralyzed, you may also notice a difference in the range of expressions.
The results of Botox usually last 3-4 months.
How many Botox treatments are required for each person is slightly different. Our body metabolizes Botox cosmetic neuromodulators at different rates. Your desired outcome, age, and muscle masswill help to determine your ideal treatment plan.
For best results, you need regular injections of Botox every 3-4 months.
After the botox injection, it is common to feel a slight heaviness or pressure on the treated area. Some people experience temporary side effects, such as mild headaches, on the second and second day of treatment.
There may also be slight redness and bruising at the injection site. Most people have no side effects at all and resume work or daily activities immediately after treatment.
The dose of botoxgets measured in units, usually in the form of 100-unit vials. The botox unit refers to the amount of medicine injected into a specific treatment area. For example, patients usually need a vertical frown line of 10-25 units, or "eleven" between the eyes.
Neuromodulators (such as botox) get widely used as preventive measures to prevent wrinkle formation. As time goes by, aging will deepen your facial lines and wrinkles. More and more young people choose to use botox treatment in their 20s and early 30s to prevent wrinkles and fine lines from being caught
The minimum age for Avante's Botox treatment is 18 years.
Both are neuromodulators with similar benefits and results. Their formulas are different, which means that one may be more effective in some therapeutic regions than the other, and vice versa.
Similarly, our bodies have different metabolisms and reactions. That is why some customers who have not achieved the results they want with botox report that Dysport works well. Avante's experienced cosmetic injection experts will help you choose the most suitable product for you.
More and more people choose cosmetic injections like botox. According to data from the American Society of Plastic Surgery (ASPS), 7.69 million Botox treatments were performed in 2019.
Worry about looking fake or excessive? Don't worry. You will master everything. At Avante, our approach to all medical beauty treatments is to solve your problems and provide the best and most natural results. Everyone will notice, but no one will know. You will not be disappointed!