What is Submental SculpSure?
Submental SculpSure is a groundbreaking laser technology that specifically targets and destroys fat cells beneath the chin without affecting the surrounding tissue. As the body naturally eliminates the damaged fat cells, you'll notice a slimmer, more defined jawline. This treatment is perfect for those looking to improve their appearance and boost self-confidence without undergoing invasive procedures.
How Does Submental SculpSure Work?
Submental SculpSure uses a 1060 nm wavelength laser to heat the fat cells under your chin to a temperature that damages their structural integrity. The body then naturally removes the damaged cells through the lymphatic system over the course of several weeks. The treatment is designed to provide long-lasting results, as the destroyed fat cells cannot regenerate.
Why Choose Avante Laser & Medispa for Your Submental SculpSure Treatment?
At Avante Laser & Medispa, our experienced practitioners are dedicated to helping you achieve your aesthetic goals. We pride ourselves on providing personalized care and the latest in non-invasive cosmetic treatments. Choose us for your Submental SculpSure treatment and enjoy a more youthful, contoured appearance with minimal discomfort and downtime.
What to Expect During a Submental SculpSure Treatment
At Avante Laser & Medispa, we strive to ensure your comfort and satisfaction throughout the entire process. Here's what you can expect during a Submental SculpSure treatment:
Consultation: Our skilled practitioners will assess your individual needs and determine if Submental SculpSure is the right treatment for you.
Preparation: The treatment area will be cleansed, and the SculpSure device will be securely positioned under your chin.
Treatment: The laser applicator delivers controlled heat to the target area, raising the temperature of the fat cells. The treatment typically lasts 25 minutes, and most patients experience a warming sensation throughout the process.
Post-Treatment: There is no downtime required after a Submental SculpSure treatment, so you can resume your daily activities immediately.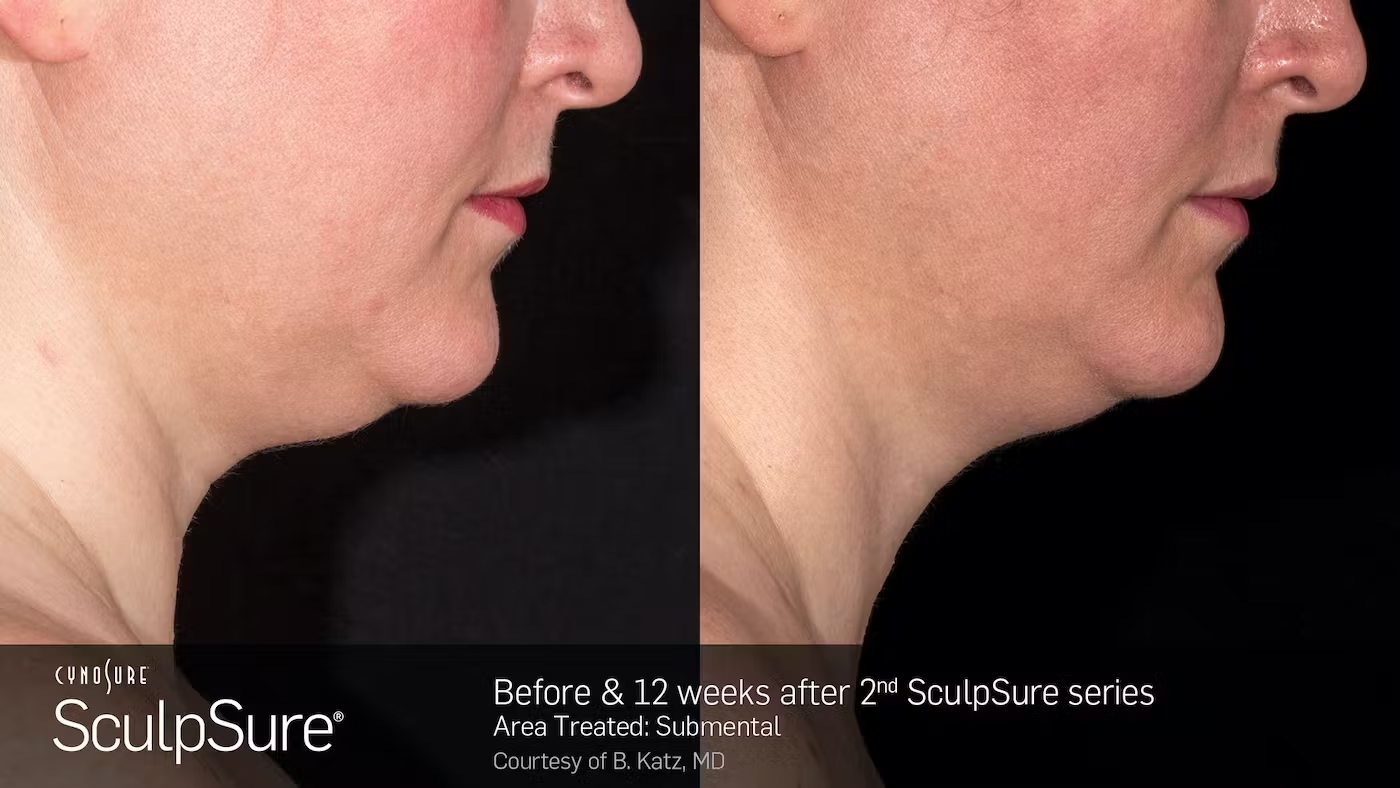 Submental SculpSure Results and Recovery
You may start to see results as early as six weeks after your treatment, with optimal results typically seen around 12 weeks. Most patients require one or two treatments to achieve their desired outcome. As the treatment is non-invasive, there is minimal discomfort and no downtime. You may experience some redness and mild swelling, but these side effects usually subside within a few hours.
Frequently Asked Questions (FAQs)
Submental SculpSure is an FDA-approved treatment with a proven track record of safety and efficacy. The treatment specifically targets fat cells, leaving surrounding tissue unharmed.
A single Submental SculpSure treatment typically takes 25 minutes
Ideal candidates for Submental SculpSure are individuals with moderate submental fullness who are looking for a non-invasive solution to reduce the appearance of their double chin. During your consultation, our skilled practitioners will determine if this treatment is right for you based on your medical history and aesthetic goals.
Yes, Submental SculpSure can be combined with other non-invasive facial rejuvenation treatments to enhance your overall appearance. During your consultation, our practitioners will discuss your aesthetic goals and recommend a customized treatment plan tailored to your needs.
The number of treatments required varies from person to person. Most patients see optimal results after one or two sessions, but your practitioner will recommend a personalized treatment plan based on your unique needs and desired outcome.
Submental SculpSure provides long-lasting results, as the destroyed fat cells are permanently eliminated from the body. However, it's essential to maintain a healthy lifestyle to prevent the remaining fat cells from expanding and causing the double chin to reappear.
Contact your preferred location and start your aesthetic and wellness journey today.
The Woodlands
8708 Technology Forest Place
Suite 125, The Woodlands, TX 77381
Houston
3651 Weslayan Suite 200,
Houston , TX 77027